I was already buzzed off at least 3 shots of Belvedere by the time the previews started. Plus however much vodka I added into my Cherry Coke and that still wasn't enough to make the latest installment in the Twilight movies tolerable. Turrible isn't even enough to describe this movie, mostly because NOTHING HAPPENED. I give you Breaking Dawn – A movie review in 4 parts.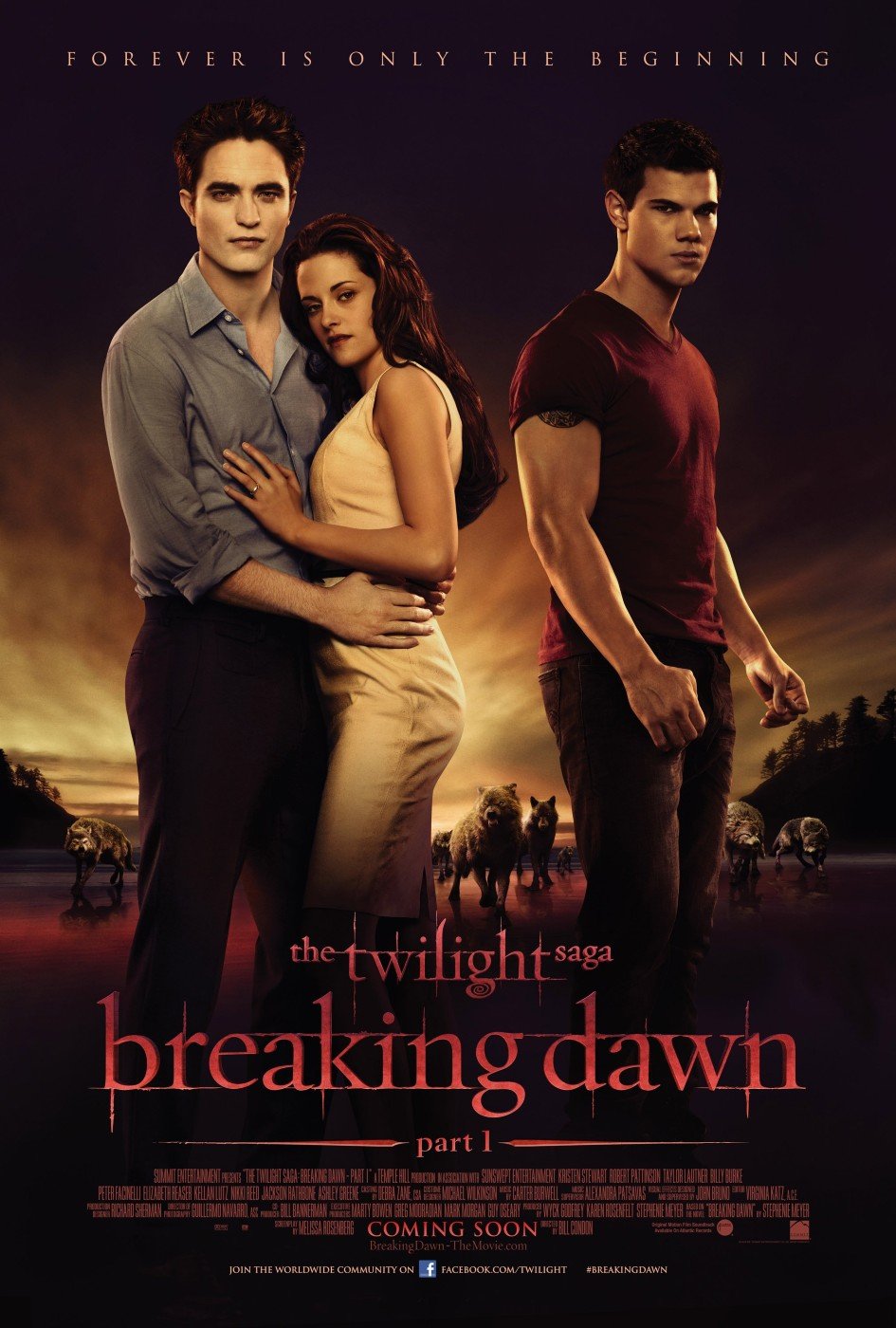 Part I – In Which Bella Still Doesn't Smile but with Nicer Hair
Once again we find Bella spending the majority of the movie looking pasty-faced and mopey. I will give it to the hair and makeup department of the movie though, they seem to have read my review of the last movie and given Kristen Stewart either a more believable wig or sprung for some high-end extensions 'cause let's keep it real, that hair looked way too luxurious to really be Kristen Stewart's natural locks. That hair looked like it belonged on a Fería commercial more than it did on Bella's head.
Part II – In Which The Wolf Pack Refuses to Take Off Their Clothes
The only time in the entire movie where we see Jacob without a shirt is in the first 3 minutes of the movie. After that he selfishly remains clothed the entire time. He changes into a wolf and his clothes rip off about half a dozen times but he never changes back on camera. The producers of this movie made me almost throw up my lunch several times by showing me a shirtless Robert Patinson but they couldn't throw me a boner by giving me more shirtless Lautner to counteract the sick feeling in my stomach? I call shenanigans. It's such a shame too, because Taylor Lautner finally seems to have grown into his Cro-Magnon features. His forehead and nose really seemed to fit on his face better.
Part III – In Which There Is Finally Penetration
The big storyline for this movie was the wedding of Edward and Bella and more importantly the fact that after over 2000 pages the homosexual, sparkly vampire and the pasty-faced crybaby were finally going to be able to do it. Walking down the aisle Bella was crying and looked like she was in pain. It's ok, girl. If I were about to marry a scrawny assed, sparkly vampire with yellow teeth I'd be crying too. Later on during the honeymoon in Brazil, she's crying again, presumably because she's about to be penetrated by that pasty English dick and it's the only dick she's ever going to get.
The sex is supposed to be so intense that Edward breaks the bed. More than likely it was shoddy Brazilian craftsmanship that caused the bed to break. The next morning Bella is once again crying and bruised up. "Why can't you see how happy I am?" she asks him. Probably because you're crying, bruised up, have the acting skills of a statue and your face always looks unhappy, bitch.
Of course, like so many Christian girls that save their virginity until the day they get drunk off 3 Bartles & Jaymes wine coolers and do it in the backseat of their boyfriend's parent's car, she gets pregnant the first time out of the gate, and proceeds to spend the rest of the movie looking like she's dying of SuperAIDS because her demon-spawn is eating her from the inside out and can only be satiated by blood drank through a straw from a Styrofoam cup. Why the Cullens, who live in a fucking mansion and drive BMW's have a Styrofoam cup just lying around their kitchen is beyond me.
Part IV – In Which Other Stuff Happens but I Don't Care Because I've Run Out of Vodka
There was not enough vodka in my water bottle to keep me interested in this movie. Bella cries some more. Edward talks about his love for Bella and how if the demon-spawn kills her he won't be able to live on. Bella awkwardly tells Jacob how much she cares for him while staying with Edward. The other vampires fight there werewolves who still refuse to take off their clothes. Then the demon spawn is born and actually looks cute and manages to do the one thing that I've been hoping would happen since I got 10 pages into the first book, the baby done killed Bella. But then they turn her into a vampire and her hair becomes even more luxurious.
End of Part 1.
If anything, these movies have taught me that Stephenie Meyers is a genius. She went after an untapped market with tons of disposable dollars – Lonely, Single Bitches. I've decided that for the next and final installment I'm going to attend a midnight showing, dressed in my Harry Potter outfit and interview some of these lonely, single bitches. If I'm lucky I'll find someone who has a tattoo just like this one.